EPHEMERAL
31 Ottobre 2014 , Scritto da Patrizia Poli Con tag #poli patrizia, #racconto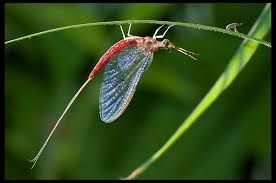 The marsh still wrapped in a damp dawn, she has just extricated her wings and now she opens them, shaking, watching them against the light, surprised and grateful. She has four: two in the front, developed and strong, and two behind, weak but complete. She doesn't know she's an ordinary flyer. She spreads her wings and goes up, full of longing, of hope, of promise. She's young and strong, and she has a whole life ahead.
The antennae, short and sensitive, guide her. She hovers excitedly over the sweet and translucent water that reveals the muddy bottom where creatures and algae live. Food for others, but not for her, she cannot spend time to eat, she left the mouth and stomach in the long metamorphosis, in that other life of which she remembers only a slow ripening of purpose.
She flies higher, in ever-widening circles.
The summer sun shines in the sky and dries all the frost. Now she beats her wings in an almost frantic way. She knows that life is a gift and should not be wasted; she knows she has a mission, a noble purpose that transcends it. Her desire flares up. It is an emotion that drives, that urges. She is now mature, full of life, she feels really ready, and then becomes almost insane in her quest.
She ventures to the borders of the swamp, then back to the center, where she dives, touching the water with her wings, almost risking drowning. She shakes, goes up again, soaked and heavy, but more determined than ever. She flaps her wings, in the hot dry air of the midday; she finds again the rhythm of her noble, uninterrupted, nuptial flight.
The shadows are getting longer, the air cools. There are swallows, now, that threaten her and she must be careful. Time has passed, inexorable, the wings are tired. Life now weighs about sore shoulders. She knows she is no longer what she was in the morning.
She has a doubt, as the light fades slowly. And if it was all useless? If one of those birds swallowed her right now? What sense would then have all those flights up and down?
She stops for the first time, uncertain, hovering over the water. She reflects, she points her antennas which, alas, no longer feel so well as at the beginning, when she was young. She gazes at the pond, just ruffled by the evening breeze, a lily pad floating like a raft, a silver fish under the water.
And then it's when it happens, just while she, remaining still for the first time, stops trying. She understands that it's the right smell, the particular vibration.
The other is tired too. He, like her, all day, throughout his whole life, flew non-stop. They recognize, approach, come together, vibrate in unison, satisfied and exhausted. Now, yes, now all makes sense finally, they think together.
It's dark now, and she's alone again. She is resting on a blade of grass, gently swaying in the breeze. Her old wings are aching, the antennas do not hear anymore.
With her last voice, however, she still sings the praises of the Creator, and thanks Him, touched, for having given her such a full and intense life.
Per essere informato degli ultimi articoli, iscriviti:
Ti potrebbero interessare anche: