Lies and fantasies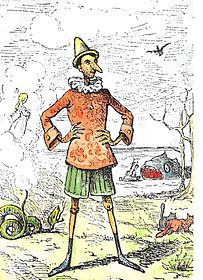 Lies and fantasies
It began with an itch on the spire of the nose. It was like a pinprick that spread in tingling waves. The meat was red, the skin stretched and then curled in crispy and woody knots.
Thirty-two and a half year had passed since Pinocchio was a wooden puppet no more, but every time he lied, his nose - the naughty thing jutting out of his head - still changed. It was always an unpleasant and embarrassing event. The last time the crime happened on the local Florence-Prato and Pinocchio had made the journey in the toilets waiting for it to pass. That day, he remembered, he had exaggerated the abilities of his dog.
But why did it happen here, in this cold evening of December, while he strutted into the new coat, mirroring himself in a display of Christmas decorations? He had not lied to anyone, he was alone with his thoughts. What exactly had he thought? He tried to remember.
So… he had observed a new computer model, beribboned like a gift package, then the little robot beside. Ah, now he remembered. He had compared it to a puppet. Here are the puppets of the third millennium, he had thought. Luckily now I am a man of flesh and blood.
He went back to look at the window. He saw a handsome and elegant man in his forties. He had changed a lot since his raids with Candlewick put havoc in the country and despair in father. The ancient structure of ash, on closer inspection, was kept in the joints, a bit hard for his age, and in the waves of the sculpted hair. But really what betrayed him was the nose. Undisciplined and pointed, ready to turn into wood at inopportune moments. Like now, with this icy sleet that cut the face.
He looked around. No one had noticed anything, thank goodness. It was late, the shops were closing. The last passers-by went home with the collar turned up against the wind. He pulled his hat over his eyes, and then entered a second vision cinema. In the dark, he waited for it to end.
Covering his nose with his hand, he asked for a ticket. The cashier raised her eyes; they were fixed and distracted together. She looked sad, her mouth full of crumbs. She was one with the counter behind which she hid her dinner. Pinocchio looked away, more and more uncomfortable, and even more tucked in his coat. The cold froze the bones.
He entered the dark room and sat in the last row. They gave a war film of the fifties. Next to him were two pensioners shivering and a middle-aged couple, who kissed in an illegal way.
He stretched his legs, tried to relax. The nose showed no signs of returning to normal, nay, in the chill of the room, it was the only still warm part of his body.
It was the curse of the fairy, he thought, the old turquoise whore that had been his mother. If she really loved him as he said, he would not have been troubled with the blackmail of goodness. Every good deed, a piece of wood less. He helped an old lady to cross in traffic? A finger less. He gave money to a beggar in the churchyard? instead of a wooden ear, he found soggy cartilage. To gain a whole body he had struggled the entire childhood, all the way up to the terrible, wonderful, day in which even his penis distilled a white pearl completely human. But the moment he altered reality of even a small difference, he had to run to hide the bulky fruit of his guilt.
Yet, at the window of the computer, Mr. Pinocchio had not told any of his usual lies. He had not inflated the power of the car, the acrobatics of his penis, the tits of his secretary. He had flattered no one, had not done artful compliments to ingratiate himself with his superiors. He could not understand where he could have been wrong.
However, he began to feel strangely good. The projection room was like a cozy womb. He was immersed in the lake of flashes that rained down from the screen and the heat was spreading from the nose to the rest of the body. He clutched the piece of wood between his fingers. It was like having in his hands a cup of hot coffee, a lit stove. He closed his eyes.
He saw a carpenter's shop, distant in time, with a soft floor covering of sawdust. An old man was carving a log. He hummed, cheerful.
"I'll make you eyes and you'll see. I'll make you a mouth and you will speak. I'll give you a heart and you shall love. "
It was a desire, a gift of love, a magic formula.
Four long lashes had beaten amazed, one leg had jumped down and had approached, eager to rejoin the rest of the body.
"I'll call you Pinocchio."
The wooden puppet had smiled, round eyes had lit up with mischief. He was a funny puppet, terrible, very lively. Geppetto, his father, had loved him just because of his pranks.
The first years of his life were carefree, then came the awareness of diversity, the need for another look. The innumerable lies.
He told Mangiafoco that he was the son of a sultan. He sold the spelling-book to go to see the theater. Magic theater, full of masks, liar, fantastic, innocent. Candlewick was telling that they were not donkeys, but noble race horses, while they, worried, groped the hairy ears in the bleak amusement park of Toyland .
In that life he had brought paper dresses and flowery hats of bread crumbs, he had burned his feet, and he had made his father carve a brand new pair, he had learned to eat the skins and pan scum, he had conversed with Jiminy Cricket . And he was always with Candlewick.
Candlewick . Nose, eyes pitch dark, Candlewick actor, liar, only friend.
When Candlewick was released from jail, all in the country had turned their backs. Pinocchio first, because now rosy knees protruded from his trousers and all advised him to stay away from bad company. Think of studying, they told him, think of your father, think of yourself now that you're a real boy, that you no longer have the head of sawdust. So he moved to Florence and Candlewick had died of a drug overdose in the toilet of a bar.
That's where the point was.
The biggest lies he had said to himself. The lie was his desire to be seen as equal to others. Because equal is true, equal is beautiful. But he was not like the others. No, he was not a human being , he was a wooden puppet. He was not an engineer, he was an actor. He had to be on stage, along with the other puppets like him.
He loved the theater, he loved Candlewick and even the Cat and the Fox. He also loved the fairy, but only when she showed herself in the form of a shiny snail or a blue goat.
A blue light fell on him from the screen, which surrounded his hands with a halo. His fingers twitched and tingled. Pinocchio looked at them for a long time, amazed. Then he smiled.
They had returned of wood.
He came out of the cinema with creaking pace of his youth. He sang. "I'll give you a heart and you shall love."
He passed the cashier. They looked each other: a big happy wooden puppet, bundled up in a coat by Versace, and a middle-aged woman with an alluring blue shimmer in her hair.
Per essere informato degli ultimi articoli, iscriviti: